Remote Tech Group will honor the refund policy of the different software manufacturers we represent, provided the customer's reasons for return fall within the manufacturer's return/exchange guidelines.
Hosting Services Fees Return Policy
All Remote Tech Group, LLC's service level agreements come with a 30 days termination policy. Remote Tech Group will honor the request for a refund on hosting fees if the request is made in writing to accounting@rtgroup.com before the 15th of the month that the customer is requesting a refund for. Remote Tech Group does not offer refunds for hosting services fees for months that Remote Tech Group has already provided those services for. PrePaid Annual, Biennial and Triennial hosting plans are not refundable or prorated. A customer may cancel or suspend their service at any point during the term of their contract, but no refund will be provided for unused prepaid hosting time.
Customers that create credit card disputes to resolve accounting issues, rather than working with our accounting team to correct issues, forfeit any and all discounts, legacy pricing and volume discounts. Customers will be reinstated at the current pricing without any discounts. The cost associated with the dispute, about $125, will billed to the reinstated customer.
We do not refund or exchange in these circumstances
Just because you made a 'mistake' when ordering.
Just because you changed your mind after ordering.
The software you purchased did not meet your intended business use. Remote Tech Group never guarantees "fitness of use", as this determination is incumbent upon the customer to investigate.
Refunds of technical support plans just because you never ended up needing support.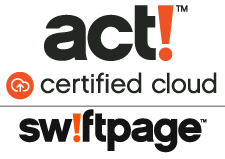 RTG is an authorized partner of Swiftpage, providing a family of hosting & training Solutions for Act!