Remote Tech Group is a Louisiana based IT consulting firm that specializes in Act! hosting solutions. We have been a Sage Software authorized partner since 2002 and in that time have worked with thousands of companies nationwide.
Our belief is that technology should streamline your life, not make it more complicated. That's why we have invested in superior technology solutions (even owning versus leasing our servers like most providers), offer seamless data transfers and DIY dashboards, as well as USA-based customer support. They are all small decisions that when added up, result in a hosting experience that can't be matched by any of our competitors.
We know how important your information is to your business and that your entire team can collaborate from anywhere at all time, and that is why we focus on providing stellar customer service and a superior product.
Please do not hesitate to contact us with any questions or unique package needs you might have. We are happy to offer custom solutions.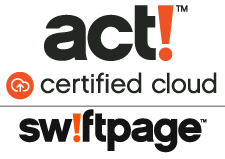 RTG is an authorized partner of Swiftpage, providing a family of hosting & training Solutions for Act!