Remote Tech Group offers premier Act! services because ours is a "true" cloud-based hosting solution. We do not simply offer remote access, but a place for your data to live on the web. This is the fastest, most up-to-date solution for web based contact management software, at competitive prices.
Act! Hosting Services
Our hosting services (Sync and/or Web) are available to any company with an active Act! Software license. (Need to upgrade your Act! license? View our packages below.)
Our cloud-based hosting solution ensures your data is secure and increases productivity because your users can access and share information from anywhere.
We price our hosting solutions in an easy-to-budget cost per user structure. The pricing is as follows:
Act! Sync, Web & Mobile – $35 per named user*
Consulting services offered – Call for more details
Act! Training Services
1/2 Day onsite Training ( inc. up to 4 manuals ) $900
Full Day onsite Training ( inc. up to 8 manuals ) $1,400
Online Training available by the hour – Call for quote
—Onsite RTG Training is only offered in the state of Louisiana, and is taught by an Act! Premier Trainer.
Act! Software
Act! Pro
The Act! Software package allows users to easily manage contacts and calendars. The software allows up to 5 users to interact in an shared environment where that can manage business relationship details, productivity tools, and social media help all via a local server platform. Act! Pro cannot be hosted in the Act! Cloud, Premium is required for RTG Act! Cloud offering
New: $300.00*
Upgrade: Contact For Options
The Act! Premium Software package includes all of the elements of the Pro package plus allows for easy communication with all customers and a cohesive way for team members to sync up on all communication efforts, and activities. Act! Premium also includes the web based version of Act!, The ACT! Companion Mobile App, and the ACT! API
New: $300.00**
Upgrade: Contact For Options
To Order : call our secure ordering line at 1-877-4ACT-877.
*Requires valid Act! Software License
**Prices are good till 1/30/2019 – Pricing is SRP.
†Upgrades are subject to Act! Upgrade Policy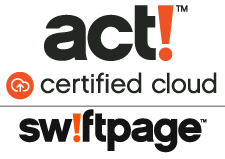 RTG is an authorized partner of Swiftpage, providing a family of hosting & training Solutions for Act!